NSF/ANSI STANDARD P231 CERTIFIED FILTERS
Multipure has always been at the forefront of drinking water treatment, offering powerful water filtration tested and certified by NSF International to treat contaminants that can negatively impact the taste, the odor, the appearance, and the healthfulness of your drinking water. Our drinking water treatment products are NSF-certified for their contaminant reduction performance under NSF 42 (Aesthetic Effects), NSF 53 (Health Effects), and NSF 401 (Emerging Compounds/Incidental Contaminants).
Multipure goes beyond this with our Aqualuxe system, certified by NSF under NSF Protocol P231 (Microbiological Purifier).
Microbiological Protection with an NSF P231 Water Filter
Why is an NSF P231 certified water filter important? Quite simply, NSF Protocol P231 ensures that the NSF P231 certified water filter can purify water of microbiological contaminants – bacteria, viruses, and live cysts. This is among the highest levels of certified water protection, and often sought out by organizations such as military bases, schools, restaurants, and food processing plants. It is a powerful capability that protects drinking water

What makes the NSF P231 certification special even among NSF water filter certifications is the NSF P231 Standard certifies that these water filters were tested and shown to purify water at the microbiological level. This is a level of certification generally sought out by organizations that require the highest levels of drinking water purity, such as military bases, schools, restaurants, and food processing plants. P231 drinking water treatment testing and certification ensures you clean drinking water, free of some of the most harmful contaminants to public health.
How We Obtained NSF P231 Certification
Our NSF P231 water filters are certified for their ability to 
reduce potentially pathogenic bacteria
, viruses, and live cysts. Not all water filtration systems can meet this standard. Multipure must subject its facilities, manufacturing processes, and Aqualuxe filter materials to rigorous examination and 
testing by NSF public safety
 and health experts to make sure they are effective enough for microbiological filtration. NSF Protocol P231 is a strenuous test to verify that a water purifier such as the Aqualuxe can convert challenging, microbiologically compromised water into pure, safe drinking water. We must update our certification every five years to ensure the consistent quality of our products.
Our performance and certification results speak for themselves: Multipure's Aqualuxe is NSF P231 certified for 6-log (99.9999%) reduction of bacteria, 4-log (99.99%) reduction of viruses, and 3-log (99.9%) reduction of live cysts in drinking water. Clean, safe, healthy water is yours with the Aqualuxe.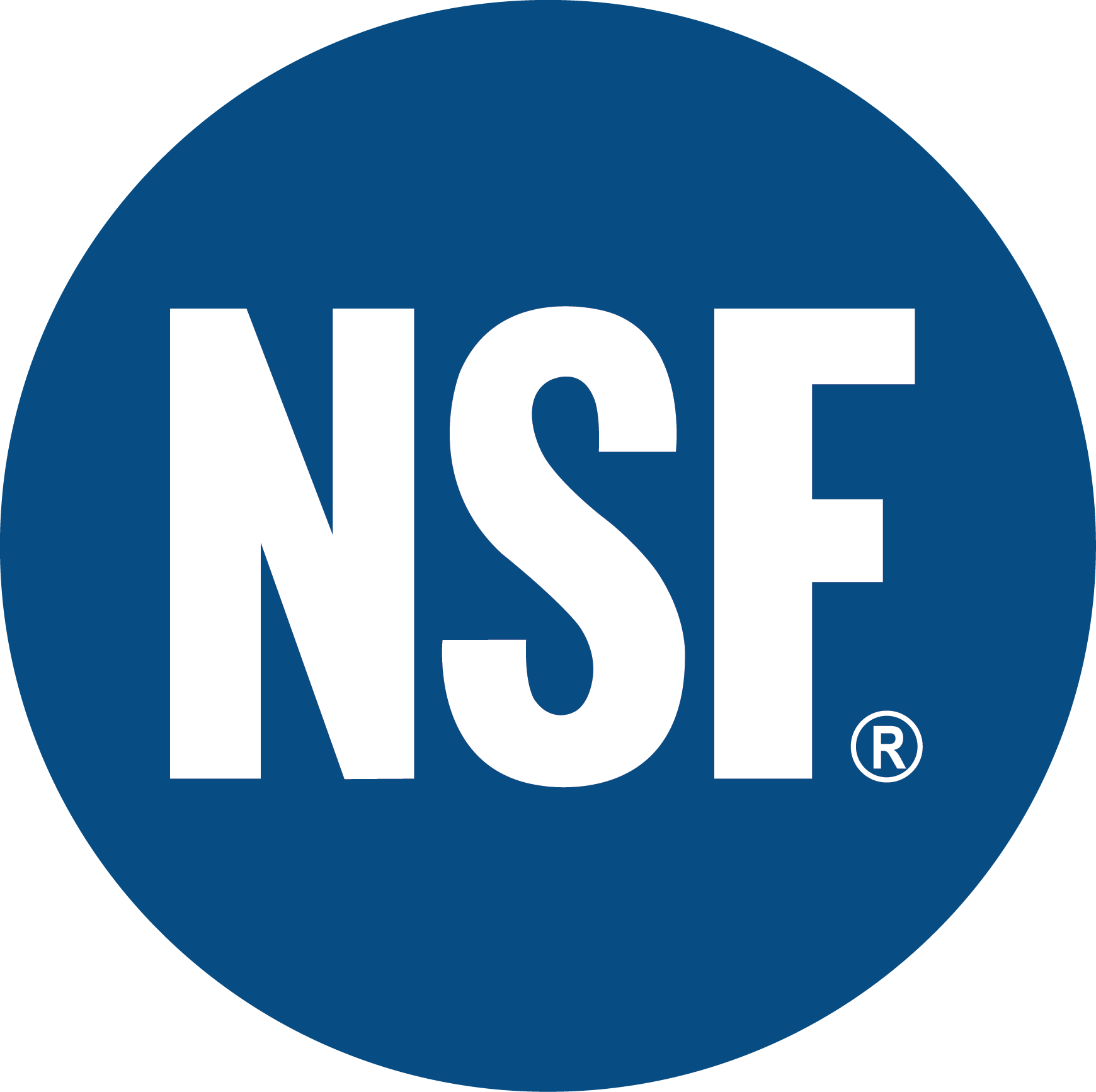 NSF Certification Is Verification You Can Trust
NSF certification
 truly gives you peace of mind when it comes to the quality of your drinking water filtration. Because NSF filter certification is not required for a company to sell water filters, you should be sure to verify that any filter purchase meets or exceeds NSF standards for health effects.
Why NSF? NSF International is an organization that has been making sure food and beverage products and related items are healthy and safe for consumers for over 75 years. They base their certification standards for microbiological water purifiers on the recommendations of the EPA's Task Force Report, Guide Standard, and Protocol for Testing Microbiological Water Purifiers (1987) (Annex B), so you can feel certain we are held to a high standard of quality.
You can easily verify the integrity and reputation of NSF. They have certified millions of products over the last three-quarters of a century and are recognized and respected by local, state, federal, and international regulatory agencies. They are a fully accredited, independent third-party organization that has no ties or obligations to any food or beverage company.
Contact Us to Learn More About Our NSF Certifications and Multipure Quality
At Multipure, we have worked hard to earn the best certifications possible for water filters so you can feel completely confident the drinking water you provide for your family is clean, healthy, and safe to drink. Multipure's NSF-certified drinking water treatment systems and solid carbon block filters reduce contaminants in tap water, improving the healthfulness of the water, improving the taste and odor of the water, and improving the overall water quality.
Multipure offers a varied of third party certified water filters for your specific contaminant reduction needs. For information on Multipure product specifications, performance data sheets, NSF certified replacement filters, and more, please visit
our website
. If you need to learn more about our various NSF Standard certifications, including the P231 certification, what they mean, how we earned them, and how they protect you, we would love to help. You can 
contact us
 online right now to learn more.